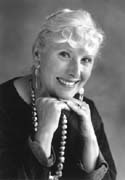 "She stood out, not because she was Eurasian on an English-speaking tour, but because of her crotch-tight shorts, her atypical long legs, her fluid walk. She felt uncomfortable in the elegant setting where gardeners of uncertain age, young and limber, old and gnarled, knelt to cut grass with long-bladed scissors along royal paths where she strode in homemade sandals. It was not considered appropriate for a girl of her status to enter the royal compound. Today she had an excuse.
She saw the workers surge upwards in a wave, standing to take a step forward, bending to remove weeds with their fingers, standing again to reach the next patch of lawn. They did not look up. She knew the feeling, rising to go forward in life, feeling a hand around her ankle to pull her back. She shuddered at the realization that they worked in the sunshine, she in the shadows. They were trapped. She was not...."
From Thai Bride, Cats & Other Tales
Copyright © 1999 by Marilyn Schoefer Wagner
About the Author
Marilyn Schoefer Wagner, a graduate of Stanford University (B.A., 1959; M. A., 1960), has experienced a diverse life while residing in the Midwest, Brussels, Princeton, and Manhattan. She has befriended European nobility, East Coast socialites, international corporate wives, just plain folks, and assorted strays, taught school, counseled marriages, divorces and children in crisis, and experienced the joys and trials of family. For eleven years she conducted a monthly seminar for wives of international leaders focusing on world issues.

She was a regular contributor to OutLook magazine. Her stories have appeared in Coast and MendoScene, literary publications. Two of her one-act plays, Bar Flies and Counter Intelligence were presented by the Mendocino Theatre Company. Her short story, Pole Cats, was published in 1997 and can be purchased from the author. Cats and Other Tales, Stories About People is published by Genesis Press and is available through all major book stores and on-line.

Marilyn Schoefer Wagner lives on the North Coast of California with her husband of forty years. She has completed two further collections of short stories. She is currently adding finishing touches to her novel and completing a fourth collection of short stories.